See more information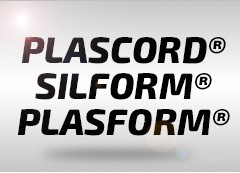 PLASTUB, a subsidiary of the OMERIN Group, proposes a broad choice of extrusion solutions for plastic, silicone or special polymer rods, cords and profiles. These products can be characterised by their structure that is built using a solid single material. They can be flexible or rigid, depending on the need and their use. Find out more about our PLASCORD®, SILFORM® and PLASFORM® ranges and their numerous advantages: extra-flexible, flexible or semi-rigid, economical, recyclable, low friction coefficient, resistance to high temperatures, inextensible, food-grade, excellent resistance to the elements, numerous colours, numerous profile shapes: U-shaped, square, rectangular, welted, flat belt, etc. Our staff is available to design the products that meet your most specific needs. Contact us for more information.
Our tubes, sleevings and profiles
PLASTUB, Expert in plastic, silicone and special polymer extrusion
Downloads
Rods, cords and profiles
A question, an information?
Contact our team
Contact us