See more information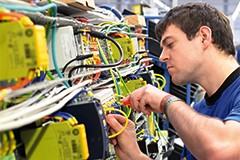 The use of insulating or protective sleevings is essential in electric systems. These products provide electrical, thermal, chemical or mechanical protection for cables and harnesses. This is the reason why PLASTUB, an ISO 9001-certified subsidiary of the OMERIN Group, has developed a broad range of PLASTUB® extruded PVC insulating sleevings, SILITUBE® silicone sleevings, ELASTUB® special polymer sleevings and SILIGAINE® high-temperature braided sleevings and heat-shrink sleevings. If you need very flexible, fire-retardant and halogen-free sleevings that offer exceptional mechanical strength, that are heat and UV-proof and can withstand high temperatures, then PLASTUB can offer an optimal standard of quality and reliability. PLASTUB's products meet many of the requirements of its customers and of the sectors in which they are used: automotive, household appliances, electro-mechanical engineering, construction and other industries. Below, you can find all the PLASTUB sleevings, with quick access to their detailed documentation. PLASTUB's teams are on hand, if you have any questions or special needs.
Our tubes, sleevings and profiles
PLASTUB also offers subcontracting services for coverings and braiding
Downloads
Industrial cabling, Protection for cable harnesses
A question, an information?
Contact our team
Contact us